Books & Resources
Expand Your Nonviolence Library
Visit the Metta Center's Bookstore for signed copies of books we have in stock.
When possible, please purchase the following titles from your local bookseller. When you choose to order online: Amazon Smile donates .5% of your purchases to your selected nonprofit, at no extra cost to you. Thanks for considering Metta Center for Nonviolence as your selected nonprofit.
---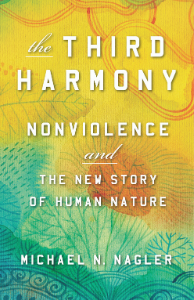 THE THIRD HARMONY: NONVIOLENCE AND THE NEW STORY OF HUMAN NATURE
by Michael N. Nagler

That the world needs to take a vastly different direction, and quickly, is no longer controversial for any thoughtful person. A whole new way of seeing the world and our role in its destiny is called for. It's what some call the "new story," a connected and collaborative vision of the future.
In his latest title, the Metta Center's Michael Nagler links the uplifting vision of the new story with nonviolence.
Download Chapter 1 at: michaelnagler.org.
Endorsements:
"I highly recommend this engaging, well-argued, serious, and realistic book."
– Rajmohan Gandhi, a grandson of Gandhi
"May ever lover of life read and be empowered by this passionate and compelling book."
– Joanna Macy, author, activist, spiritual leader
"A powerful 'new story' rooted in wholeness is being called forth!"
– Belvie Rooks, co-author of I Give You the Springtime of My Blushing Heart
---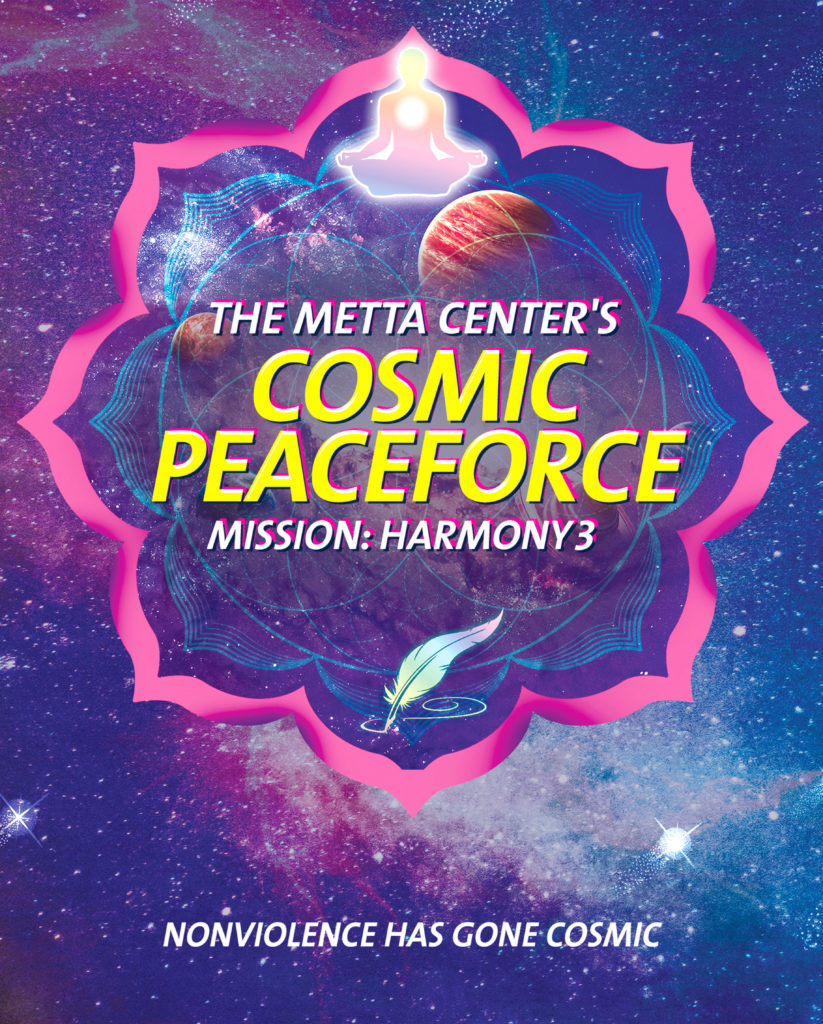 Cosmic Peaceforce: Mission Harmony 3
We've created a cooperative board game for adults that serves as an introduction to cooperative game models, movement strategy building, the new story, and last but not least, key principles in nonviolence. It also happens to be loads of fun and a creative way to build positive, empathic, and meaningful connections between diverse individuals. Buy a copy here.
Or, you can receive a Third Harmony Package of a DVD of the film, the book, and this board game from the Metta Center as a package for $108 plus shipping. Visit this page.
---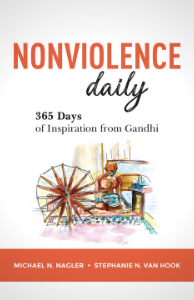 NONVIOLENCE DAILY: 365 DAYS OF INSPIRATION FROM GANDHI
by Michael N. Nagler and Stephanie N. Van Hook

As a constructive power, nonviolence is unleashed when potentially destructive drives like fear or anger are converted into creative equivalents like love and compassion. When harnessed systematically and in an experimental, scientific spirit, nonviolence can be used as a force for realizing greater security, justice, and social unity. The question is, how do we put this positive force into practice for the benefit of ourselves, our families, and our broader communities?
Nonviolence Daily lights the way, with 365 digestible insights and daily calls-to-action for creating inner peace, resolving conflicts, and building community. Each page highlights a quote by Mahatma Gandhi, whose very life was a message of nonviolence, or "love in action." Michael Nagler and Stephanie Van Hook provide commentary to the quotes, illustrating how today's practical idealists can draw from Gandhi's wisdom.
Available in print and as an e-book from Person Power Press, the publishing arm of the Metta Center for Nonviolence.
---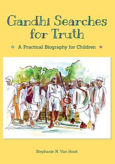 GANDHI SEARCHES FOR TRUTH: A PRACTICAL BIOGRAPHY FOR CHILDREN
by Stephanie Van Hook; Person Power Press, August 2016

Mahatma Gandhi was an ordinary child who sought to do something extraordinary with his life: discover Truth. In 12 short stories, this beautifully illustrated book chronicles Gandhi's inner and outer journey from childhood to the independence of India. For both children and grown-ups, these stories explore how Gandhi discovered the key principles and tools of nonviolence, including concepts like "satyagraha" and "nonviolent non-cooperation." Most importantly, it addresses how we can bring his great message in our own lives and become peacemakers at any age (see the Book FAQs for more on that).
One reader had this to say:
"This is a superbly crafted, inspiring book for all children — and parents! written by an expert on both Gandhi and young children's education. Ms. Van Hook is both a certified Montessori teacher and the Executive Director of a nonviolence education organization, so she is doubly qualified to approach this special topic and special audience — young children. I cannot think of anything children need more in today's demoralizing world. As a parent and grandparent myself, I wish I had had this book thirty years ago!"
Gandhi Searches for Truth is also available at the Vedanta Society bookstore in San Francisco, Point Reyes Books in Point Reyes, and Many Rivers in Sebastopol, California. Order it at your local bookstore or directly from the Metta Center. All book proceeds support the Metta Center.
---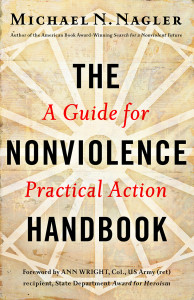 THE NONVIOLENCE HANDBOOK: A GUIDE FOR PRACTICAL ACTION
by Michael Nagler; Berrett-Koehler Publishers, March 2014

This practical handbook is a brief guide to the core principles and strategies at the heart of nonviolent resistance. Michael Nagler distills the guiding principles of nonviolence into a straightforward, practical and short handbook that will help anyone in a nonviolent movement work more safely and effectively towards achieving social change. See reviews by Waging Nonviolence and Yes! Magazine.
Nonviolence Handbook is available as an audiobook on Audible. When you sign up for an Audible account and select Nonviolence Handbook as your first purchase, Audible gives Metta Center $50.
Nonviolence Handbook is also available in print and for Kindle.
---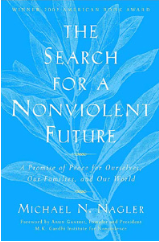 THE SEARCH FOR A NONVIOLENT FUTURE
by Michael Nagler; New World Library, August 2004 (2nd edition)

Michael Nagler's seminal book on nonviolence reflects a lifetime of scholarly work in the field. Beginning with the achievements of Mahatma Gandhi, and following the legacy of nonviolence through the struggles against Nazism in Europe, racism in America, oppression in China and Latin America, and ethnic conflicts in Africa and Bosnia, Nagler unveils a hidden history. Nonviolence, he proposes, has proven its power against arms and social injustice wherever it has been correctly understood and applied. With a foreword by Arun Gandhi, Search received the 2002 American Book Award.
Available in print and for Kindle.
---
MEDITATION FOR PEACEMAKERS
by Michael Nagler; Metta Center for Nonviolence, February 2014

Images of Nonviolent activism can be striking: protesters beaten with clubs in India, Civil Rights Activists subjected to firehoses in the U.S. South, Occupy students sprayed with neon orange chemicals. How to remain nonviolent, preserve inner calm, in the face of such severe violence? Gandhi maintained that the answer was in a sustained discipline of calming the mind, and in this eShort, lauded nonviolence theorist and meditation practitioner Michael Nagler shows you how.
---
A BRIGHT FUTURE: NONVIOLENCE AND HUMAN EVOLUTION
by Michael Nagler; Metta Center for Nonviolence, December 2013

"Nonviolence is the greatest force at the disposal of mankind." The words of Mahatma Gandhi are the guiding spirit behind the essays in this eShort by Michael Nagler. Each essay explores the deep and powerful promise of nonviolence as a tool for social change. Michael Nagler, founder and president of Metta Center, offers stories of nonviolence in history and today, of hope, and of our bright future.
---
HOPE OR TERROR
by Michael Nagler; Metta Center for Nonviolence, October 2013

One hundred years before September 11, 2001—on September 11, 1906—Mahatma Gandhi officially launched the world's first Satyagraha, the term he coined for the strategic, nonviolent resistance campaign. Noted peace scholar Michael Nagler tells the story of the birth of Satyagraha (literally translated as "clinging to truth"), during Gandhi's time in South Africa.
---
BEYOND FORGIVENESS
Edited by Phil Cousineau; Jossey-Bass, January 2011

Beyond Forgiveness includes essays by Metta Center's president, Michael Nagler, and executive director, Stephanie Van Hook. Produced by Metta Center board member Rich Meyer, Beyond Forgiveness shows how acts of atonement—making amends, providing restitution, restoring balance—can relieve us of the pain of the past and give us a hopeful future. The book contains 15 contributions from high-profile thinkers and activists, including: Huston Smith, Michael Bernard Beckwith, Jacob Needleman, Arun Gandhi, Diane Hennacy Powell, Azim Noordin Khamisa, Rabbi Michael Lerner, James O'Dea, Reverend Heng Sure. Read the Huffington Post article co-authored by Michael Nagler and Phil Cousineau.
Available in print and for Kindle.
---
OUR SPIRITUAL CRISIS
by Michael Nagler; Open Court, May 2005

Michael Nagler argues that problems now faced by American society spring from a false way of looking at the world, based on the premise that material things are fundamental, consciousness merely derivative. He advocates a return to the ancient and Eastern spiritual view that consciousness is fundamental. In developing a new conception of the universe and applying it to our social problems, Dr. Nagler explains how we can best oppose war, consumerism, commercialism, scientism and the spiritual hollowness of modern life. Commentary by Lewis S. Mudge.
Available in print and for Kindle.
---
PRAYER
by Mahatma Gandhi; Berkeley Hills Books, July 2000 (reprint edition)

Prayer Brings together Mahatma Gandhi's most important writings on spiritual practice and his relationship with God. Compiled from five decades of letters, articles and books, Prayer opens with an exploration of the meaning of prayer in every faith. He discusses not only forms of prayer, but also the abuses of institutions that compelled him to forge his own spiritual path.