Explore
We've put together just some of our key resources and calls-to-action for you to explore on your own! When you are ready for support for any of this material, please be in touch. Enjoy your exploration!
Find us on Social Media: Youtube, Instagram, Facebook, Twitter , Instagram
---
The work of the Metta Center is to help people practice nonviolence more safely and more effectively. We promote what is known as principled nonviolence, sometimes referred to as "Gandhian" nonviolence: nonviolence that goes beyond "not using violence" in a revolution or specific action, but where nonviolence itself is the revolution. It's both a means–meaning what we use– and an ends–meaning what our aim is.
One way of jumping into nonviolence is through this model we've created called The Roadmap.
The Roadmap is a "peace from within" model that we use to help explain key concepts in nonviolence, how to think strategically and broadly about nonviolent action, and to inspire people to find themselves within a 'movement of movements.'
You can learn more about the Roadmap model in The Third Harmony: Nonviolence and the New Story of Human Nature as well as in this article and this talk from Michael Nagler.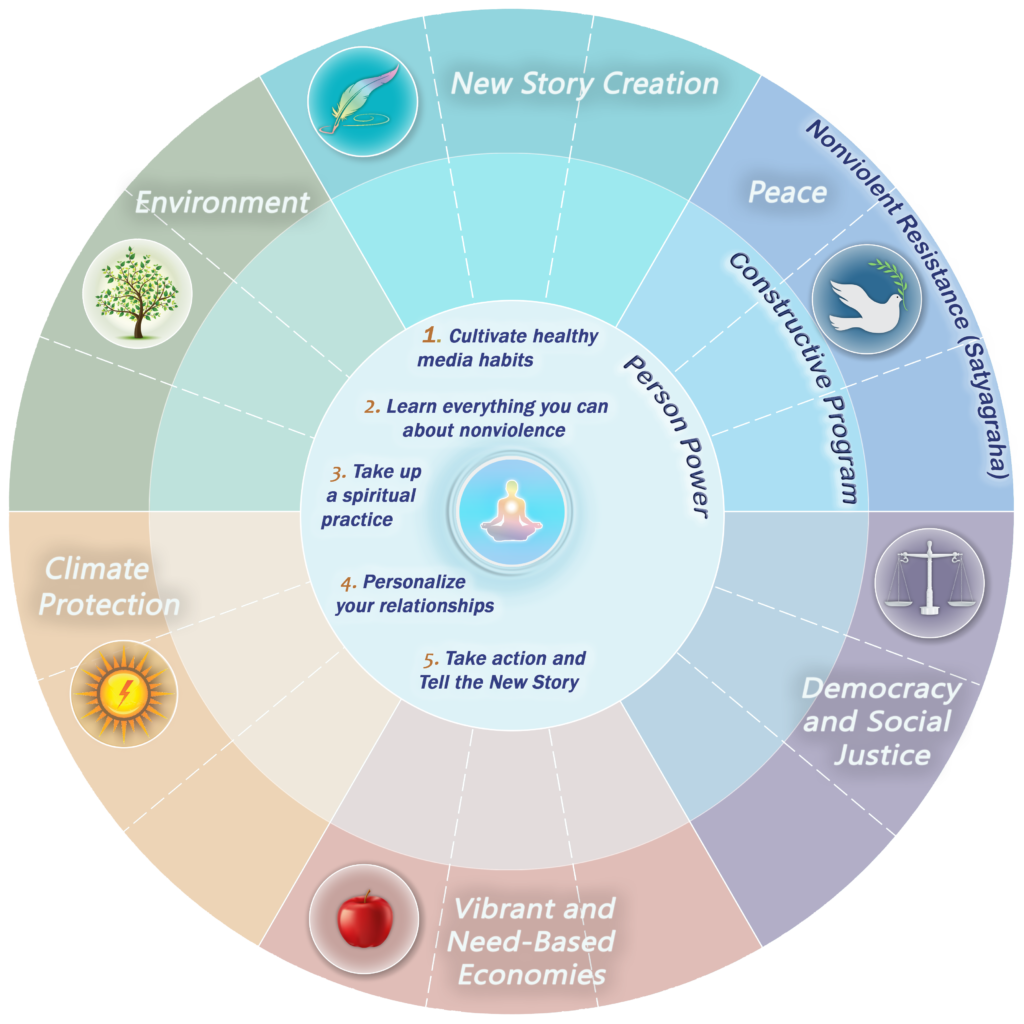 You can learn more about some of the terms in this model by clicking on the links below!
Person Power overview and Audio Study of Person Power Concepts (With transcripts)
Constructive Programme overview and Audio Study of Constructive Program Concepts (With transcripts)
Satyagraha overview and Audio Study of Satyagraha Concepts (With Transcripts)
New Story overview and Article on the New Story
A 100 Year Plan, an example of big-thinking based on the Roadmap
A Pledge of Nonviolence and a Pledge of Resistance
The New Story of Human Nature (and Nonviolence)
One of the most important aspects of our work in principled nonviolence is to explore the story that we have been conditioned to tell ourselves about who we are, what our purpose/duty is as human beings, and how nonviolence fits into this puzzle. As you can see in the Roadmap, "New Story" is at the very top. It's very important. Because when people begin to view the world and themselves through a new, hopeful, and practical lens, new possibilities arise that make nonviolence inevitable.
We've created a series of animations on various aspects of the New Story. We invite you to watch them below.
An Urgent Message for Humanity
A New Story of Justice: Nonviolence and Restorative Justice
Part of the New Story of Nonviolence is that nonviolence is now confirmed not only in the world's great wisdom traditions (which show the unity of life and respect for diversity within that unity), it's also found a footing in the scientific paradigm. Here's a website we've created with resources about the science of nonviolence, here's how to use that website, and a short article describing what the science of nonviolence is all about.
The Third Harmony Project- New Story in Action
Drawing from the Roadmap and adding to the resources about nonviolence and the new story, we have a project called The Third Harmony which takes people through a learning experience with a book, a board game, and a film. You can find the links here:
The Third Harmony Film: The Third Harmony: Nonviolence and the New Story of Human Nature
The Third Harmony Book: (same title as the film)
The Third Harmony Cooperative Board Game: Cosmic Peaceforce–Mission: Harmony 3
See a review of the film and the book here by Sandra Bass of UC Berkeley.
The Third Harmony website includes curriculum resources for educators and ways to get involved such as hosting a community screening of the film.
Tough Questions about Nonviolence
Because nonviolence is misunderstood and extremely undervalued in our world we will all come across common misconceptions about it in conversation with others. It's important that we learn how to answer these questions. Here are some starting points:
Common Objections with some helpful answers
The Conflict Escalation Curve (how nonviolent conflict escalates and violent conflict de-escalates)
Nonviolence and the Question of Nazism
The Shanti Sena Network of Peace Teams: Community Security–or even the world– can't be based on nonviolence? Think Again!
Podcast, Books, and Blogging for Nonviolence
We do a lot of media work. Here's where you can find us.
Books and our Bookstore
Waging Nonviolence (we have a 'community page' on their website)
Nonviolence Magazine (We are no longer publishing this but there are wonderful articles that were published when it was in print, which you can find here)
Courses and Study Programs
Peace and Conflict Studies Webcasts w/ Michael Nagler
(A glossary of terms to support the Peace and Conflict Studies Webcasts)
Thought for the Day (This is the raw content on which our book Nonviolence Daily was based)
Metta Center Courses Listing (Self-paced Metta Center content courses on Teachable)
Self-Study (Audio and transcripts at the Metta website)
Family Curriculum (see also Peacemaker Family on our Teachable website)
How to get involved in our work
If you have found these resources of support to your practice of nonviolence, please tip our work with a donation.