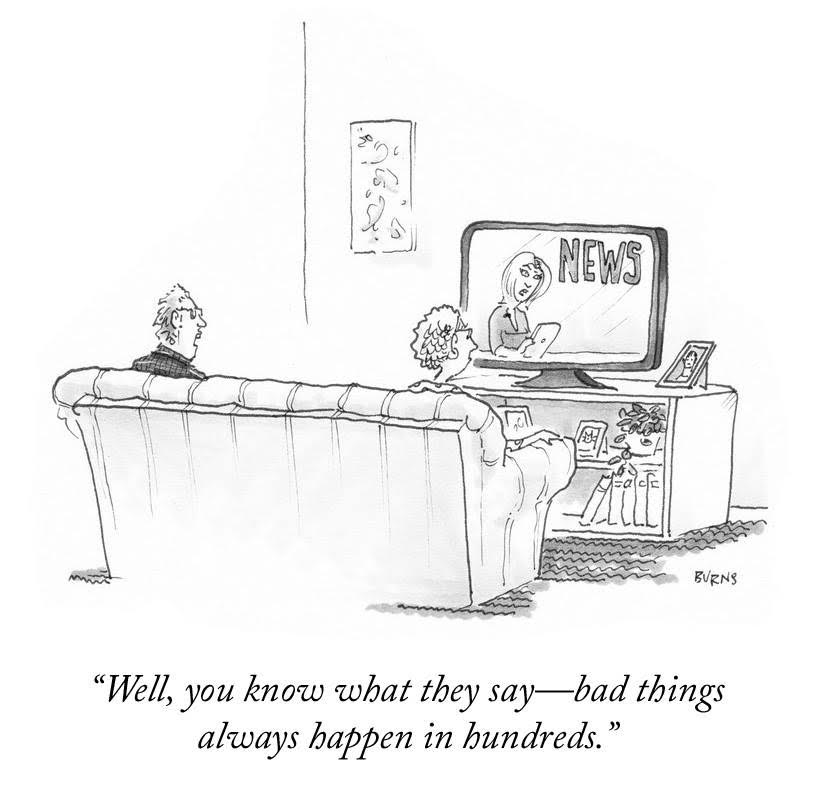 "Windstorm, 2015!"
The deep voice boomed from my mother's T.V. accompanied by a musical score that could have been part of a Star Wars film. I felt my heart rate increase just a bit even as I rolled my eyes and laughed.
Yes, there was a storm headed towards Seattle during my visit, and yes, there were precautions to take. But as I listened to the news anchor talk about all of the possible calamities that could befall us, I remembered all too clearly why I had long ago stopped watching mainstream TV news. The report on the storm, and stories following did not offer me helpful solutions to these frightening possibilities or provide an even-handed outlook in the face of the unknown. Instead, it increased my anxiety and fear, even though I was already listening with a critical ear.
This persistent elevation of anxiety, anger, and fear is at the heart of the Old Story paradigm, which accompanied industrialization, and which paints the human family as material entities, searching for fulfillment by consuming increasingly scarce resources, and doomed by our very nature to competition and violence.
Mainstream media keeps this story deeply entrenched in our psyches by continuously forwarding stories that emphasize violence, greed, danger, and separation while ignoring the countless stories that forward a far more encouraging view of the human being that is encompassed in the New Story.
This New Story is underscored by ongoing breakthroughs in physics and neuroscience, and it a story of belonging and interconnectedness. As the New Story continues to emerge, we see that we are wired as a species to cooperate with one another, and that our deepest longings are not for material goods, but for authentic and trusting connection with one another. In fact, we often take great risks and face danger to help each other. Yet these realities are not often reflected in the stories we see and hear day to day.
If you find yourself yearning to read, see, and hear more stories that bring the New Story forward while also staying current with world events, Metta can help!
We are continually at work on this issue, both creating the media we want to see in the world through our radio programs, blog posts, and our published books, and through providing resources for news print, radio, and social media, that forward nonviolence and uplift the image of the human being.
We are happy to report that these resources are increasing! You can find our current list of resources on our site. We continue to update it regularly.
We can also offer 5 Practical Steps for New Story Media Savvy :
1. Explore our Recommended News Media/Analysis page in depth, and check out the organizations recommended. Some organizations will allow you to subscribe to an email list so that the news comes to you.
2.Train yourself to become literate regarding Old Story/New Story Media nuances. We have some great tips at the bottom of the Recommended News Media/Analysis page.
3. Upgrade your social media feed! You can choose to "follow" Metta Center, and other nonviolence organizations on Facebook, ensuring that our posts will show up in your feed. You can also join Facebook groups we have created: Nonviolence Report Facebook Group, Science of Nonviolence Facebook Group, Peacemaker Family Facebook Group.
4. Tune in to the Nonviolence Radio every other Friday at 9am, and the Nonviolence Report every other Monday at 10am. We post the episodes on our Facebook page so you can listen at your convenience. You can also subscribe to Nonviolent Radio through iTunes.
      5. Be discerning about any mainstream media that you do interact with, with an eye towards more balanced reporting.  A few examples: Guardian UK,  Al Jazeera,  Christian Science Monitor/Monitor Daily (online), but always pay attention to the image of the human being assumed in the articles. (More about this in Michael Nagler's Search for a Nonviolent Future.)
This blog is part of a series on Frequently Asked Questions about principled nonviolence and the work of the Metta Center for Nonviolence.