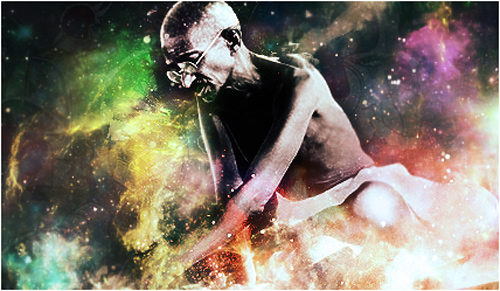 The Metta Center–especially our founder, Michael Nagler–has been interested in the science of nonviolence for several decades. So the other day, I sent this article out to our awesome volunteers to see if it would spark some cool insights about how we understand nonviolence:
Hi everyone, 
The Metta Team has started exploring questions related to nonviolence every week, and so here is one! What do you think: 
Here's an article from the NYT about the phenomena of perception and expectation. 
My question for you all is whether you think that we might be able to extrapolate some insights about how nonviolence works–or what it is–from these (non)observations. 
Looking forward to hearing from you! 
Stephanie 
Here are some responses. After reading, you are warmly invited to add your own insights in the box below. We'd love to hear from you!
LOU:  As a magician and photographer, I am very aware of how misdirection and composition can hide things.  Both of these attributes are operating in the sample images in the article that made me "miss" seeing the big toothbrush, and less so the parking meter.
The strongest way this relates to nonviolence for me is how people often don't "see" nonviolence because we are culturally conditioned to focus on conflict and who's to blame for it. Like the toothbrush, we're looking for what we are expecting – someone or something to be wrong.  If we're more in the habit of seeing the basic human needs being expressed in a conflict then we would see human beings struggling, feel compassion, and maybe our imaginations would be sparked with something new.
Annie: Hi everyone, and thank you, Lou, for your (very clear!) response. I completely agree that our current culture conditions us to see violence, which in turn tends to cause us to be blind to actions — even movements — of nonviolence. Unfortunately, in most mainstream media, unlike in the images of the big toothbrush and parking meter, the stories about nonviolence are simply not there.
That said, one aspect I liked about considering parallels between this and the workings of nonviolence is the fact that we seem to be particularly unaware of 'out of scale' objects. My hope is that, like the toothbrush and the parking meter, nonviolence is, in fact, enormous in our world, we just need to learn to 'spot' it. If this is the case, we should try to think about what might trigger our capacity to do this, to see the truth which is in front of us, One way might be to think about the fact that it was easier to identify the parking meter because we'd been alerted to its presence. So perhaps then part of spotting NV is having its presence suggested. This is a pretty…unexciting conclusion and I'm sure there's more we can draw from this example, but simple awareness raising seems pretty important.
Thuy: Thanks, Stephanie, for bringing forth this interesting article and food for thought for the day. Lou and Anne, thanks for sharing your insightful thoughts on this issue of bringing awareness to nonviolence and how to make it part of our daily expectation rather than something that seemingly does not 'fit' in our vision of what we see in the world.
The author states, "People have a tendency to miss objects when their size is inconsistent with their surroundings." I would say this is consistent with the amount of violence that has been mainstreamed into our daily lives versus that of nonviolence.
Anne brought up the issue of being alerted to the presence of nonviolence to create simple awareness. But, how do we know what we don't know? And so, like Anne, that is my question for those of us practicing nonviolence or for organizations working in this field…how can we collectively 'mainstream' nonviolence in order to alert people to its presence so that the scale of nonviolence is no longer diminished within our vision? It almost seems like we need a national campaign, similar to a lot of public health campaigns around seat belts, drunk driving, quitting smoking, etc. so that nonviolence becomes normalized and practiced.
Thanks again for the illuminating discussion!
What do you think?